Cards & blocks
Cards and blocks are the core components of the Manitou web framework, allowing to build different views for different purposes and meanings. Each type of information, product or content could fit in its proper, resusable and flexible card or block component.
You can find the below components in _card.scss.
---
Horizontal rule
Horizontal rules are used to separate some blocks or some content within cards or blocks.
---
---
Table
3 or 2 columns tables are used to display detailled data of equipments or attachments. Their basic and clear layout conveys great legibility.
| | | |
| --- | --- | --- |
| Lifting height | 13.8 m | 45'3" |
| Lifting capacity | 4000 kg | 8800 lb |
| Drawbar pull | 8600 dan | 19333 lbf |
| Moving speed | 32 kmh | 19.8 mph |
| | |
| --- | --- |
| Driving type | Seated |
| Standard tyres | Pneumatic |
| Number of wheels | 4 |
| Number of wheels (front) | 2 |
| Number of wheels (rear) | 2 |
| Tyre dimensions (front) | 400/70-20 14 PR |
| Tyre dimensions (rear) | 400/70-20 14 PR |
| Driving position noise levels | 79.7 dB |
---
---
Filter block
Filter blocks are used in results views to display the number of results and eventually offer a filter on these results.
---
Home news
This component consists of a row of 4 cards that includes a picture and a title.
These cards are actually bigger than the ones we can see below since they must be displayed in a full-width container, usually in the homepage.
This row of 4 cards becomes 2 rows of 2 cards on tablet display. On mobile, the 4 cards are stacked.
If your link is an external one, don't forget to add the target="_blank" attribute on the a tag.
---
Feature card
Feature cards are used to quickly display related content such as attachments, benefits or services related to an equipment.
---
Basic block
There is 2 basic blocks in the Manitou web framework.
The first one, as shown below, are block with a title and different stacked parts, usually integrated in an <aside>.
Use a <br> to separate different parts of the block.
The second kind of basic blocks are simple frame illustrating the unity of a component.
Benefits
Manitou will manage all the procedures to make your process easier. You no longer need to submit applications to banks and insurance companies. Our experts guarantee a clear tailored solution without hidden costs.
You refer to a single contact: your dealer. No need for repeated visits to an insurance company, dealership or the bank.
The best of technology through the regular renewal of your equipment and for an accurate budget with no surprises.
---
Service block
Based on a .bloc, service blocks display an illustration of a service and one or two call-to-action.
---
Category block
Based on a .bloc, category blocks display a media introducing a category, a carousel (see section Interactive components) or a video (see section Illustrations), and eventually a call-to-action.
---
Application block
Based on a .bloc, application blocks introduce an application by displaying a name, a short text and some call-to-action in a first column, and a carousel (see section Interactive components) in a second one.
Cereals
Do you grow cereal crops? Manitou provides solutions for cereal growers with the most demanding requirements. Over the years, we have developed particularly productive cereal handling solutions. Contact us to find out about all of the solutions that we can provide to accelerate your harvesting process, more simply store your cereal grains and efficiently handle the results of your work.
Whether it is compact telehandlers or heavy-duty forklifts, large capacity buckets or hooks to move big bags, we have a whole range of solutions for your needs.
Tunneling
The specific aspects of tunneling require very robust machines which absorb shocks and which are capable of working in dust-laden atmospheres and under extreme conditions. The range of Manitou solutions overcomes the constraints of managing your logistics platforms, construction and installing infrastructures (making arches, reinforcement and ventilation). Versatile and all-terrain, they optimize your fleet of machines while observing your safety requirements.
Contact our team dedicated to tunnels and find out how our solutions can increase your productivity.
---
Blog block
Based on a .bloc, the blog block introduces a blog post with a picture or a video, a title, some description text, some metadata and to call-to-action binded to the article.
---
Poutou Manutention ouvre ses portes pour son 45e anniversaire
Partenaire manutention des entreprises limousines depuis 1970, Poutou Manutention est heureux de vous accueillir le jeudi 17 septembre dans le cadre des portes ouvertes anniversaires.
De 10h00 à 21h00, venez découvrir l'ensemble de la gamme Manitou.
Cette journée anniversaire, étape de l'Actis Tour 2015, est une occasion pour nous de vous faire découvrir notre entreprise et de rassembler l'ensemble des ses acteurs : clients mais aussi fournisseurs, partenaires institutionnels et élus locaux.
Venez partager un moment convivial autour d'un buffet (midi et soir)

Tentez votre chance et gagnez des heures de location et des chèques entretien
Découvrez les dernières innovations lors de démonstrations

Échangez avec nos spécialistes industrie, bâtiment, agriculture ou environnement.

Rendez-vous le jeudi 17 septembre à partir de 10h au 28 Avenue du Ponteix, Zone Sud, Limoges.
Renseignements et inscriptions sur www.poutou.fr/45ans

---
fr

France

Poutou

Limoges

Manutention

Portes Ouvertes

Actis Tour

Agriculture

Construction

Industrie

Anniversaire
- 1 Comment(s)
---
Ultimate Cladding Solution
Discover our latest innovation for professional cladders : MRT 3255 + Platform + Winch on crane (aka "The cladding platform").
Our client came to us with a specific need : being able to clad up to 32 m. 250 kg insulation panels (7 m. long). After study in our Taylored Solutions department, we came back to him with a complete solution. It also avoids the use of one platform and helps our client to save up a lot of money. Based on his latest job quotations, he will reimboursed his investment before the end of the year.
---
View this post Comment this post
en

Worldwide

Cladding

Cladder

MRT

Manitou

Construction

Bardage

Bardeur
- 0 Comment(s)
---
Event block
Based on a .bloc, the event block presents an event with an optional picture, a title and some data about the event, such as its date, its location or its stand number.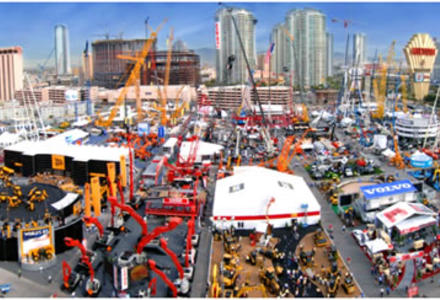 Conexpo Latin America
-
Espacio Riesco, Avenida El Salto 5000, Santiago, Región Metropolitana - chile
829COAD
---
Event aside
The event aside presents the same data of an event block, but displays them in a shorter, quicker view in an <aside> to remind the users of a current event.
---
Twitter flux
The twitter flux uses a custom embedded flux in a basic block.